These stunning refuges are available to purchase in New South Wales, Tasmania and Queensland, and represent a rare opportunity for buyers.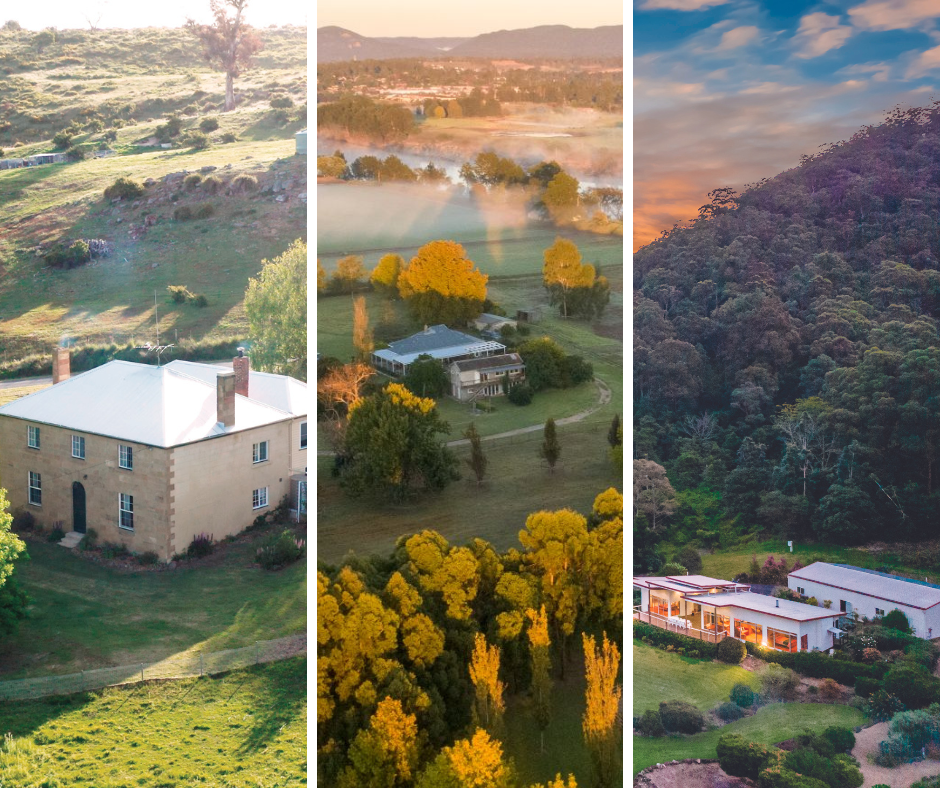 Eco retreat nestled in a valley near Brisbane
A modern home nestled in a valley with magnificent views of the surrounding mountains has been listed. It provides a rare opportunity to purchase a large property spanning the Christmas Creek Valley on Queensland's border close to New South Wales.
"Its greatest standout aspect is its seclusion and isolation," says its owner, Dr Geoffrey Beadle. "It's two hours from the Brisbane CBD, so it's not that remote, yet it's quite secluded."
'Manderley' spans 64.75 acres and takes its name from the 1938 Gothic novel 'Rebecca' by Daphne du Maurier. When Beadle and his wife purchased the house 17 years ago, they set about removing the overgrown lantana.
"It has a microclimate in the sense that it gets more misting rain than heavy showers. We see lots of rainbows and lovely cloud formations often come up through the valley towards the house."
For Beadle, the property has provided the balance he needed as an oncologist and breast cancer specialist.
"As a physician, my work is consultations, which are long hours. It is a cognitive and relatively sedentary lifestyle, so I needed something to build up my fitness through pruning and weeding and whatnot, and to leave the closed urban environment behind."
Now, in their seventies, Dr Beadle and his wife have decided it is time to move on.
This property is listed with Queensland Sotheby's International Realty.
Fly-fishing on a private Tasmanian retreat
A 5,200-hectare grazing property in Tasmania's tightly held central highlands will go on the market next July.
'Hermitage' is bounded by the Ouse and Shannon rivers, with river frontage that stretches for around 30 kilometres in one of the state's finest fly-fishing locations. Platypus and trout are abundant in the pristine waters, sourced from the Great Lake, while wild deer roam the property.
"It's a beautifully quiet place," says its owner, John Rose. "I bought it for its position and the secluded lifestyle."
The principal residence, Hermitage House, was built from sandstone in the 1860s.
Rose has fond memories of building the hunting lodge 40-years ago when he purchased the property. It has an enormous fireplace for cold winter nights – the area receives snowfall most winters.
Stables and extensive sheds on the property are also used for sheep and cattle farming.
Hermitage is 95 kilometres from Hobart and has served as a weekend retreat from Rose's home in Melbourne. The estate is close to Cattle Hill Wind Farm, and is an area ripe for hosting other renewable energy projects.
Rose was the inventor of the iconic Rosebank "Stackhat" in the 1980s, a bicycle helmet which was a defining symbol of the decade.
"At one point, 10% of Australia's population wore a Stackhat. Back then, I worked 15 to 20 hours a day and needed somewhere to get away. Around this time, I bought Hermitage, and I was there building up the farm every spare minute I could get."
This property will be listed by Knight FrankAgri-Business Tasmania.
Art imitates life on private country estate
This mixed-use farm on the banks of the Hawkesbury River in northwest Sydney is so grand that scenes from The Great Gatsby were filmed there. Its long list of film and TV credits includes Peter Rabbit 2, Married at First Sight and the Bachelor and Bachelorette series.
"It's a luxurious country masterpiece," says owner and Mortgage Choice co-founder, Peter Higgins. "It is only an hour from the city, yet it feels like you could be hundreds of miles away."
The 115-hectare property in the Richmond Lowlands is home to the Sydney Polo Club, which hosted the World Polo Championships there in 2017.
It includes three polo fields, stables, two undercover riding arenas, a
clubhouse, water allocation for 507ML, three cottages and three residential homes.
"The design of the 38 stables was modelled off our late Queen Elizabeth's stables, in terms of the size and petitions between the horses for their privacy," says Higgins.
The 35-acre natural lagoon provides a habitat for 145 bird species, including black swans and pelicans. Higgins has fond memories of enjoying kayaking, sailing and fishing on the lagoon with family and friends.
The estate comprises 14 separate land titles, which Higgins accumulated over the last 20 years. He also planted 14,000 trees and hedges that stretch on for kilometres.
"My goal back in 2000 was to establish a venue where I could host the World Polo Championships one day, which we did in 2017," says Higgins. "I'm not playing polo competitively anymore, and it is appropriate at this point in my life to hand this beautiful property over to another family."
This property is listed with Forbes Global Properties. Disclosure: Forbes Global Properties, is the exclusive worldwide real estate partner of Forbes.
Forbes Australia issue 3 is out now. You can pick up your copy at all good newsagents or become a member here.